What?
Open Source Job Fair
Student association ULYSSIS is organising a one of a kind job fair for companies that develop, support and/or heavily use Free and Open Source Software. All students and alumni with skills in IT (whether it be development or administration) are more than welcome. Of course, a passion for Free and Open Source Software is a plus.
When?
22 March 2023, from 16h00 to 21h00
Mark it down on your calendar, have us send you a reminder via email, indicate "I'm going" on our Facebook event, or keep in touch with us on Twitter. Further down you can also find more ways to spread the word.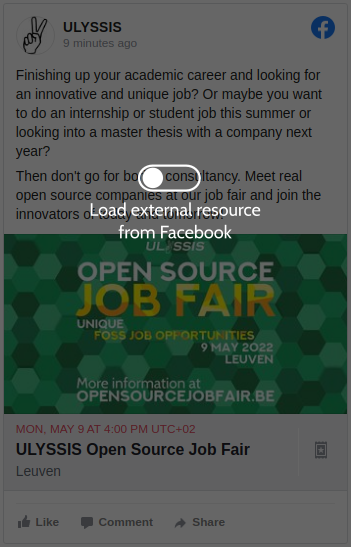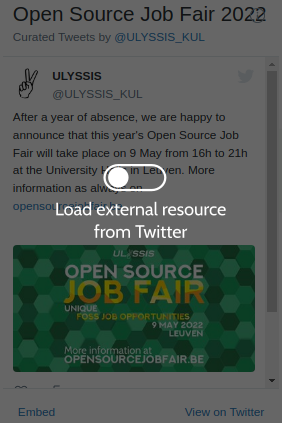 Where?
Jubileumzaal HAL 01.05, Naamsestraat 22, Leuven
How do I get to Leuven?
You can easily get to Leuven by train or car (or even long distance bus) and then follow the instructions below once you've arrived. To make the trip a bit less daunting, we've been in contact with a few student organisations who will work together with us to arrange free transport from their area to the Open Source Job Fair.
Is your city, university or university college missing? Feel free to get in contact with us on jobfair@ulyssis.org about setting up an arrangement with a local organisation. If the cost is specifically an issue for you, you can also email us about a reimbursement. We think promoting Free and Open Source software and hardware is very important, and we wouldn't want to exclude people from our job fair based on transport costs.
I'm in Leuven, now what?
The Job Fair takes place in the Jubileumzaal on the first floor of the University Halls. The halls are situated right in the city centre of Leuven, so you can easily get there from all over town.
By public transport:

From Leuven train station: a short 15 minute walk along Bondgenotenlaan until Rector de Somerplein or take any bus to Rector de Somerplein, then walk across Grote Markt to Naamsestraat, the University Halls are on your right.
From Heverlee Campus: take bus 2 in the direction of town, up to Sint-Michielskerk and then walk in the direction of Grote Markt, the University Halls are on your left.

By bike:

There is a free bicycle parking area underneath Rector De Somerplein (formerly known as Fochplein) as well as some (limited) in Naamsestraat and in university buildings in the area (Maria Theresiacollege, Maurits Sabbe, FEB).

By car:

Parking is available in the underground parking at Ladeuzeplein, Minckelersparking (Sint-Maartensdal), QPark Centrum Leuven or QPark Heilig-Hart, at walking distance from the University Halls (see https://www.leuven.be/parkings/en for a list of all parkings as well as pricing). Keep in mind that Leuven has many one-way streets and a lot of congestion. It is also possible to park at the edge of the city and take a bus to the center for free, more information can be found on https://www.leuven.be/gratis-bus (in Dutch).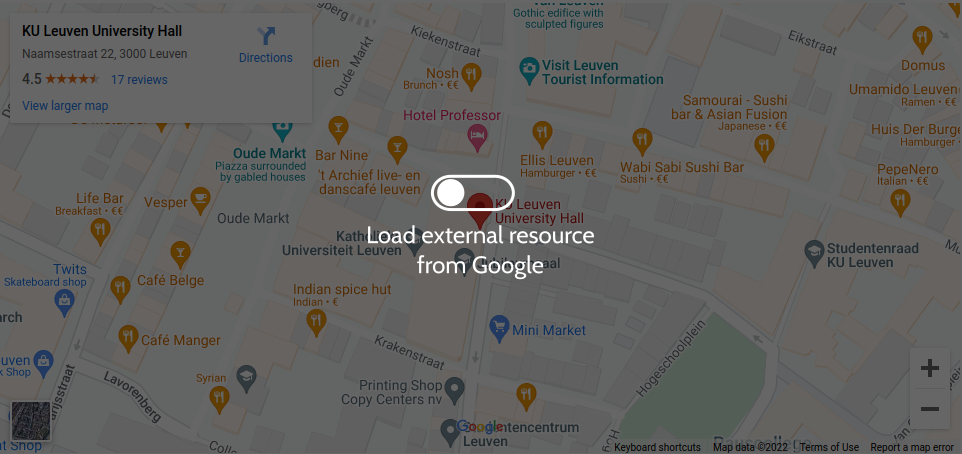 Who will be there?
Companies involved with Free and Open Source Software as developers, supporters and/or users

Spread the word
Want to help others find a FOSS job in Belgium? You can always help us spread the word! Post our website on your social media, email a link to some friends, write about us on your blog or mention it in class.
Is your company late to the party?
jobfair@ulyssis.org
Our Job Fair offers companies with interesting and innovative FOSS jobs the opportunity to reach future graduates and young IT talent. While the Job Fair itself is fast approaching, we might still have a spot for you. So if you are looking for young FOSS innovators to join your ranks and wish to participate in our Job Fair, please contact us as soon as possible at jobfair@ulyssis.org
Who are we?
ULYSSIS
ULYSSIS is a student association from Leuven, founded in 1994. We started off with a single mail server, but in the meantime we have grown to a respectable organisation with about twenty servers. Our team is also still growing in numbers, just like the amount of services we offer. Our infrastructure hosts the websites of almost all student unions in Leuven, and more than one hundred associations, organisations, students and KU Leuven staff. Apart from that, we are increasingly offering technical support on events such as the 24 hour run and Beiaardcantus (carillon cantus), we give workshops to students who are interested in computer science and organise our own CTF. We do all of this under our motto "1 0 1, computer science for everyone", and always with a focus on FOSS and Linux.
History
The ULYSSIS Open Source Job Fair was first organised in 2015. Since then, it has evolved, grown and matured. If you are curious about previous editions, you can find the posters and websites of all past years in our archive.